The many stages of iPhone syncing dispair
I love my iPhone, but I rarely sync it to my computer.  It seems like every time I do, I'm in a hurry to get some new music on it to listen to while I'm biking into work or something.  Here's what I end up having to endure:
Step 1: iTunes update

Step 2: Download iTunes
Step 3: Try to Sync with no luck
Step 4: The iPhone Firmware Update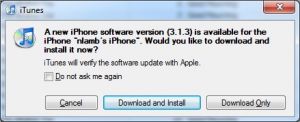 Step 5: The Sync


So if you're still with me, which I probably wouldn't be after all these ridiculous steps, that took the better part of an hour.  And I never did get to listen to those songs I wanted to on my ride into work.